This is the english version of an article I wrote a while ago.
The fragment of an apron dress found in Hedeby has a plait braided from six threads in red and yellow sewn over a tuck. A black and white photograph and a reconstruction sketch can be found in the book "Die Textilfunde aus dem Hafen von Haithabu" (German for: "The textile finds from the harbour of hedeby") from Inga Hägg. For the apron dress of my wife Bine i wanted to have plaits and therefor I have invested some time in the matter "braiding with six threads".
Finding the pattern
There are a lot of different tutorials for braiding with six threads on the internet. I have tried some of them and compared the result with the drawing in the book. Unfortunately none of the experiments looked alike.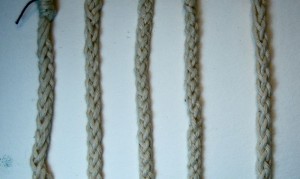 Next I tried to extract the pattern from the drawing in the book by myself. First I made sketches on paper and then experiments with a thick string. At the end of the afternoon I managed to braid a pattern that looked like the drawing in the book.
Experimenting with the colors
Getting the colors right was the next problem. The drawing in the book gives no indication of which are the three yellow and the three red threads. I tried two different possibilities with three red and three grey threads: All threads of a color on each side and alternating red and grey threads. The first patterns looks weird but the second pattern looks rather good. I did not try any other possibilities.
How to braid the plait
The pattern is fairly easy to to: Start with three threads on each side with alternating colors.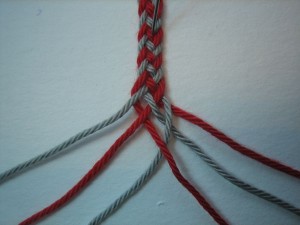 1. Put the thread on the right over the other two threads to the center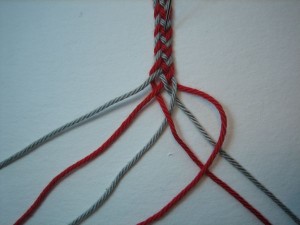 2. Put the thread on the left under the other two left threads and over the thread you moved in the first step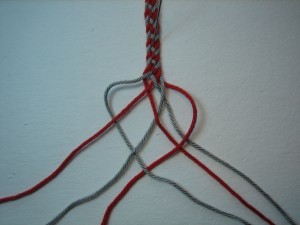 3. Pull tight and start over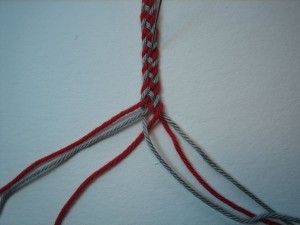 Be careful with the tension. If you pull too tight the pattern will be on the backside of the plait. That is not a problem if you pull evenly. The pattern alternates between the front and the back if you don't keep an even tension.
Conclusion
I am quite pleased with my trials and the resulting plait. The pattern looks like the drawing in the book but I can not tell if it is the "right" technique.
Feel free to post comments or send me e-mails if you have any questions.
Below are some pictures of the finished apron dress made from a plant dyed diamond twill wool fabric with a plait done with plant dyed red and green wool threads.